All Sartek Products are Made in the USA!
SARTEK SAFEAIRE ANTIVIRAL AIR FILTER SYSTEMS
Here is a photo of the first Sartek SafeAire stand alone Antiviral Air Filter Systems.
These units capture and kill airborne viruses with a reusable, patent applied for filter.
This filter was lab tested in a 1000cu ft test booth with 350 CFM air handler using a Phi-X174 virus, which is smaller than the Covid19 virus, and it eliminated 99.9% of the virus in 2 hours.
The larger unit is rated at 120 CFM and can turnover and filter the air in a 1000 cu ft room more than 6 times an hour.
The smaller unit is rated at 60 CFM, both units use a 12vdc power supply so they can be used plugged in the house power or connected to a cigarette lighter outlet in a car or boat.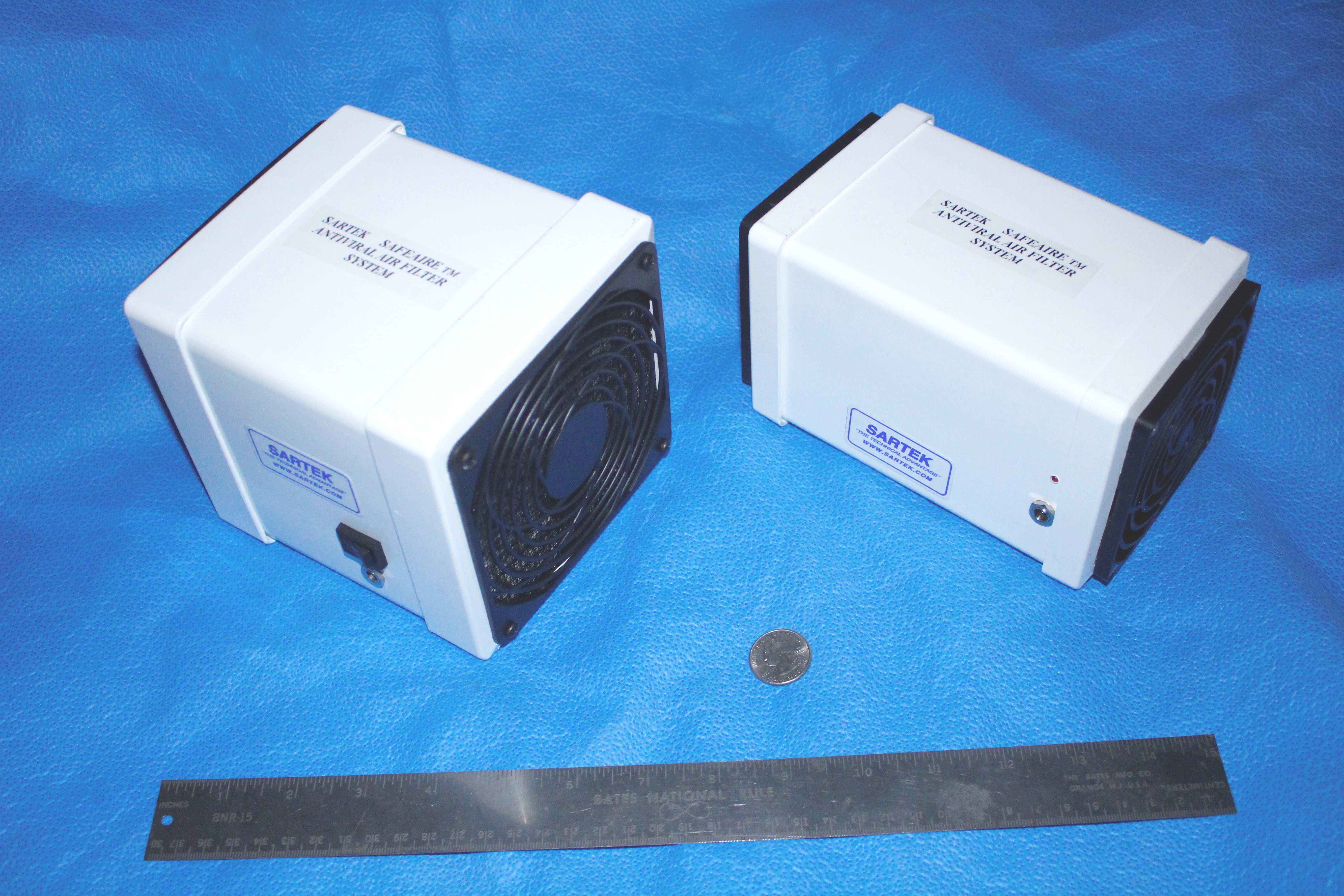 NEW RSV CLIP SYSTEM FOR PUBLIC SAFETY DIVERS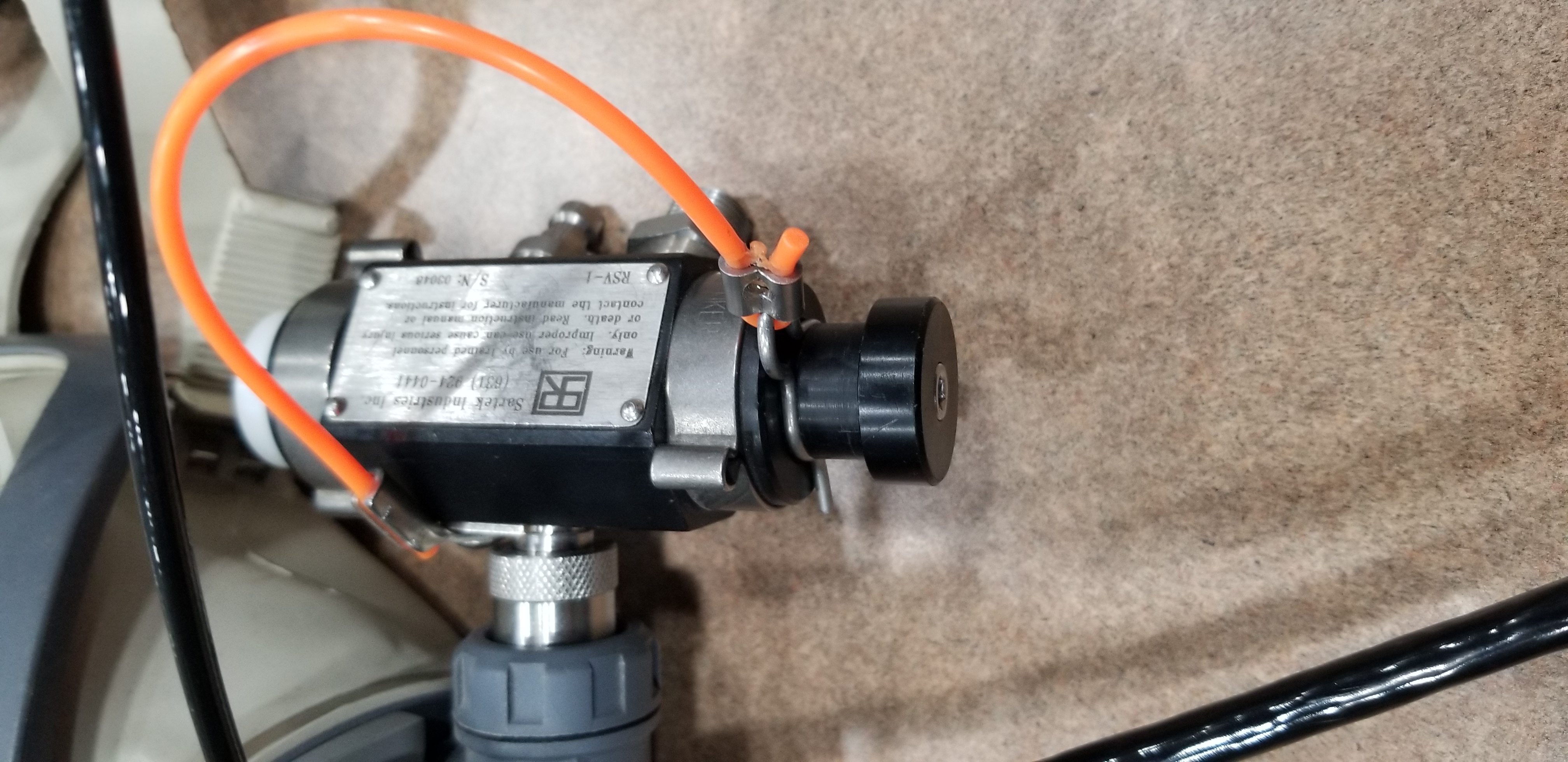 This new clip system helps the tender to indentify that the RSV-1 is in the start dive position.
Contact Sartek regarding upgrading your RSV-1s to the latest configuration.
SARTEK HIGH DEFINITION SCIENTIFIC DROP CAMERA SYSTEM FEATURES AND SPECIFICATIONS
Custom High Resolution Camera – 1080P TVI color camera in a 316 Stainless Steel housing, built in LED illumination, Wet Mate connector, depth rated to 1000'+
Custom 150' Surface tether with 8 conductors, coax cable, water blocked, internal 2000 lb. test Kevlar cord, Polyurethane protective jacket and a 2000 lb. test Poly Over-Braid with Wetmate output connections.
Custom Rugged Powder Coated Steel Reel system with 8 conductor slip ring to permit continuous uninterrupted signal and tripod component control while deploying or retrieving the camera platform. Detachable rewind handle, adjustable tension brake system.
Custom Camera Tripod Platform- Hollow Tubular 316 Stainless Steel System with adjustable weighting (lead shot fillable and attachable external), Adjustable Position Camera Gimbal with 2 integrated, parallax adjustable, fixed position 532nm Wetmated lasers, 2 Adjustable position, 3600 lumen, 6000K LED Wetmated video lights, Components can be securely anchored when optimum preferred position is attained.
Waterproof Surface control box with System Master Power, Laser Power, Internal Camera Lights Power, External Side Illumination Power controls, High Definition 1080P TVI Video, Composite Video and HDMI outputs, PC controlled Text Overlay with GPS Data imbedded in a Composite Video Signal. System Power included options include: 90-260VAC 50/60Hz, 12VDC Mobile Power source (cigarette lighter outlet) and Internal Rechargeable NIMH 13.5VDC 9AH battery.
Checkout a video shot with the Sartek Modified Housing and Sartek Lights: www.vimeo.com/27873893
The VP of Sartek's Herding Department
Molly
Assistant Herder and little sister - Jordy
Both Molly and Jordy are rescues and part of our family - Please consider adopting a rescue over purchasing from a breeder or a puppy mill, you won't be sorry!